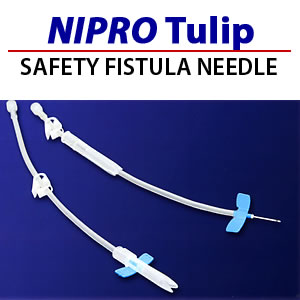 Nipro Tulip Safety Fistula Needle
Features of the clear, patented TULIP safety needle protector:
• Low profile design
• Ease of use during patient cannulation and needle placement
• Activation using a one-handed technique
• Audible click indicating protector is locked and will stay locked
• Meets OSHA safety requirements

Nipro Tulip Safety Fistula Needle
Below are highlights of the proper removal of the SafeTouch Tulip Safety Fistula Needle.

To Withdraw the AVF needle from the patient, pull needle back slightly to expose cannulation site.
Slide TULIP needle protector forward until three "petals" of the TULIP needle protector tip are positioned over the flattened wings.

Simultaneously pull on tubing while pushing TULIP needle protector forward completely covering the needle until wings are secured with an audible or tactile "click".
Dispose of Safe Touch Tulip in an approved biohazard sharps container .
Nipro Tulip Safety Fistula Needle
FT+142530BC
14G X 1" BE-CL Single
300 / Case
FT+152530BC
15G X 1" BE-CL Single
300 / Case
FT+162530BC
16G X 1" BE-CL Single
300 / Case
FT+172530BC
17G X 1" BE-CL Single
300 / Case
FT+152530TP
15G X 1" BE-CL Twin Pack
250 / Case (120 pairs + 10 each)
FT+162530TP
16G X 1" BE-CL Twin Pack
250 / Case (120 pairs + 10 each)