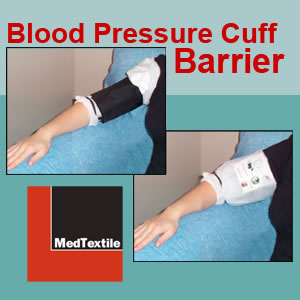 Blood Pressure Cuff Barrier
A Simple, Disposable sleeve with surprising benefits.
The Blood Pressure Cuff Barrier is a better solution in the fight against cross-contamination than expensive, disposable blood pressure cuffs or disinfecting cuffs.
The BP Cuff Barrier is a single-use, sleeve-like barrier that protects patients and nurses' gloved hands from contaminants.
• Break the Contamination Cycle
• Improve compliance
• Spend 90% less than using disposable BP Cuffs
• No more soaking or wiping BP cuffs
Call Today for FREE SAMPLES - 800-346-2080
How To Use The Blood Pressure Cuff Barrier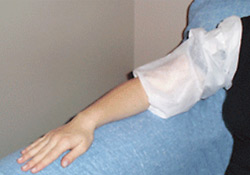 Apply the BP Cuff Barrier with extra fabric at the top.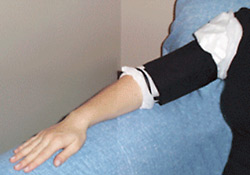 Apply the cuff as usual.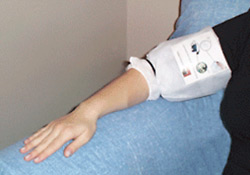 Fold the extra fabric down over the cuff.
Blood Pressure Cuff Barrier

Product Code
Description
Packaging
1081789-XL
BP Cuff Barrier, Extra Large
200 / Case
1081789-L
BP Cuff Barrier, Large (#1 Seller)
500 / Case
1081789-M
BP Cuff Barrier, Medium
500 / Case
1081789-S
BP Cuff Barrier, Small
500 / Case

Plastic Coated Blood Pressure Cuff Barrier
A special plastic coating is applied to the Original BP Cuff Barrier design. Designed and tested to help prevent fluid penetration.

1030198-XL
PLASTIC COATED - BP Cuff Barrier, Extra Large
200 / Case
1030193-L
PLASTIC COATED - BP Cuff Barrier, Adult
500 / Case
1030193-M
PLASTIC COATED - BP Cuff Barrier, Youth
500 / Case
1030193-S
PLASTIC COATED - BP Cuff Barrier, Infant
500 / Case