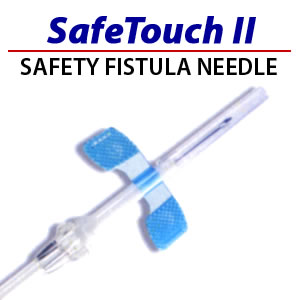 Nipro SafeTouch II
The only system with built-in safety advantages: a permanent locking feature eliminates the worry of accidental needlesticks; textured wings provide secure grip; system is low profile and is designed to meet all OSHA safety requirements.

Nipro SafeTouch II
Below are highlights of proper use of the SafeTouch II Needle. For complete information please refer to the Instructions For Use printed on the outer product carton.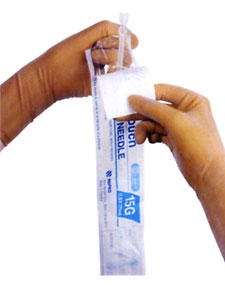 Peel open the package from the position marked "PEEL HERE". Do not break open the package to remove product.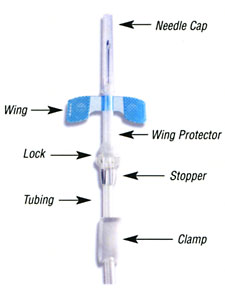 Safety is built into the SafeTouch II needle design. After removal from package, check to ensure that wing protector is securely locked into the stopper.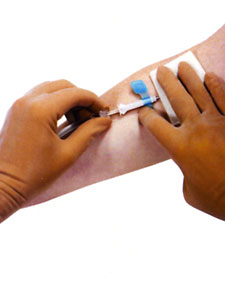 At end of procedure, close clamp, apply pressure to site and hold down wing protector; release lock by pressing both sides of stopper, sliding stopper back until it becomes fixed with audible or tactile click.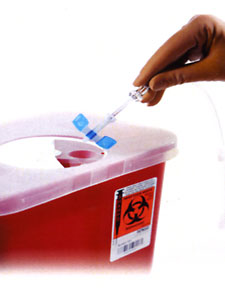 Once wing protector is fully engaged dispose of protected SafeTouch II needle in an approved sharps container.
Content 2
Nipro SafeTouch II
Product Number
Description
Packaging
FS+142530BC
14G X 1" BE-CL Single
500 / Case
FS+152530BC
15G X 1" BE-CL Single
500 / Case
FS+162530BC
16G X 1" BE-CL Single
500 / Case
FS+172530BC
17G X 1" BE-CL Single
500 / Case
FS+152530TP
15G X 1" BE-CL Twin-Pack
500 / Case (250 Sets)
FS+162530TP
16G X 1" BE-CL Twin-Pack
500 / Case (250 Sets)