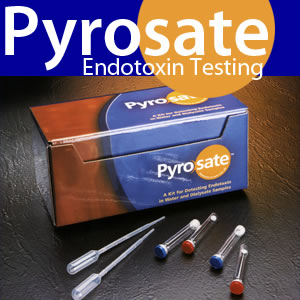 Pyrosate - Endotoxin Testing
Bacterial endotoxin testing can be done using the Limulus Amebocyte Lysate (LAL) Assay. Endotoxin testing has been simplified and is now less expensive when you use Pyrosate™. Pyrosate has been designed especially for water and dialysate testing. Simple instructions will allow gel clot assay results in less than 30 minutes. Pyrosate advantages are:
• No technical skills required.
• Shorter assay time – 0.25 EU/mL in under 30 minutes
• Endotoxin specific
• No dilutions required / no other reagents needed
• Includes a matched 2λ positive control
• Easy open vials
• 10 Test Kit comes complete with disposable pipettes
• Bulk size available
Lower Costs

AMMI Standards
Instructions
Training Video

Products
Lower Your Costs
Pyrosate provides quicker results at a lower cost than current methods.

• 30 Test Package cost is $342.00 ÷ 30 tests:
$11.40 / test
• Disposable pipettes and sampling tubes:
$02.32 / test
$13.72 / Test Total Cost
(Less if higher volume)
AAMI Microbial Standards for Dialysis Water (adopted 1/26/11)

| | | | | |
| --- | --- | --- | --- | --- |
| Microbiological level | 2010 Standards | 2010 Standards | New Standards | New Alert Level |
| Coliform Forming Units | <200 CFU/mL | <1EU/mL / <50CFU/mL | <100 CFU/mL | >50 CFU/mL |
| Endotoxin Units | <2 EU/mL | <1EU/mL / <50CFU/mL | <0.25 EU/mL | >0.125 EU/mL |

Water systems should be tested weekly until a pattern of consistent compliance is demonstrated.  It is recommended that the system be tested monthly thereafter.  Testing points should include the first and last outlets of the water loop as well as the endpoints supplying the reprocessing and bicarb mixing areas.
Dialysate from machines should be tested monthly.  Clinics should test at least 2 machines a month so that each machine is tested at least once per year.  The dialysate to be tested should be drawn from the dialysate port of the dialyzer or a sampling port from which samples can be collected using a pyrogen-free container. 
Pyrosate Instructions For Use 1.0 UE/ml Sensitivity
Print Instructions (PDF)

1. Preheat incubator (dry or wet bath) to 37+- 1ºC. Verify the temperature by using a thermometer or digital display.

2. Collect the sample in a pyrogen-free container. The silicone lubricant in syringes is known to inhibit the assay / test if the sample is held too long. Be careful not to contaminate sample with fingers, instruments, sneezing, etc.

3. Use a permanent marker to label Sample (SPL) and Positive Product Control (PPC) tubes with test location or other sample identification.

4. Remove and discard stoppers of one SPL (blue capped tube) and one PPC (red capped tube). Do not touch the tube rims!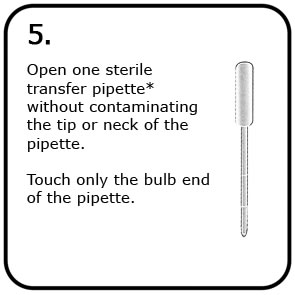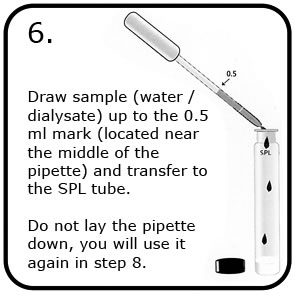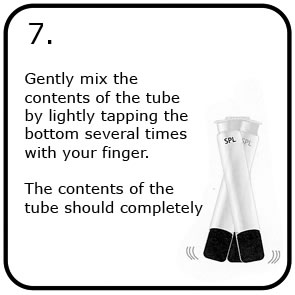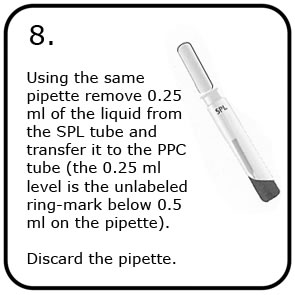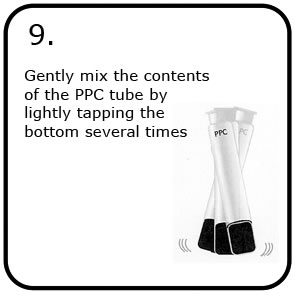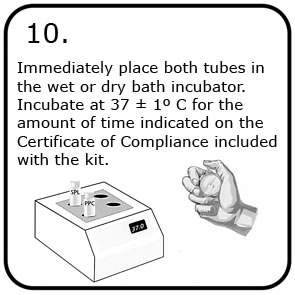 NOTE:
Incubation times may not be the same for every kit
. Check the Certificate of compliance that was included with the kit you are using.
READ:
When time is up, immediately and carefully remove the tubes one by one from the incubator. Gently invert the tubes until the absence of a solid gel-clot is confirmed or a 180 degree inversion is reached. Do not shake the tubes when reading the test. IF a solid clot has formed the result is positive (+). If no clot has formed, i.e. mixture remains liquid or the clot breaks, the result is negative(-).
PPC:
PPC (Positive Product Control) tube. This tube SHOULD clot. If it does not, you have an invalid test. Repeat the test. A failure of the PPC tube to clot indicates either inhibition of the assay by the sample or improper performance of the assay.
SPL
: SPL (Sample) tube. This tube SHOULD NOT clot. Absence of a clot means you have less than 1.0 EU/ml of endotoxin in the sample. If the SPL tube clots, your sample has endotoxin at or greater than 1.0 EU/ml.
Control (PPC)
CLOT (SPL)
Result
CLOT (+)
CLOT (-)
Sample contains MORE than 1.0EU/ml endotoxin
CLOT (+)
NO CLOT (-)
Sample contains LESS than 1.0EU/ml endotoxin
NO CLOT (-)
CLOT (+)
Assay is NOT valid. Repeat the test
NO CLOT (-)
NO CLOT (-)
Assay is NOT Valid. Repeat the test
Pyrosate Supplies

Pyrosate 10 Test Kits

Kit contains: 10 positive product control tubes, 10 sample tubes, 12 disposable pipettes, instructions for use and a Certificate of Compliance

• PSD250-10 Pyrosate 10 kit, 0.25 EU/mL
• PSD125-10 Pyrosate 10 kit, 0.125 EU/mL
• PSD030-10 Pyrosate 10 kit, 0.03 EU/mL

Pyrosate 30
Bulk Test
Packs

Pack contains 30 positive product control tubes, 25 sample tubes, instructions for use and a Certificate of Compliance -
PIPETTES SOLD SEPARATELY

• PSD250-30 Pyrosate 30 kit, 0.25 EU/mL
• PSD125-30 Pyrosate 30 kit, 0.125 EU/mL
• PSD030-30 Pyrosate 30 kit, 0.03 EU/mL

Disposable pipettes
• PPT50 Disposable pipettes, 50 pack

Pyrogen-free sampling tubes
• TS050 Pyrogen-free sampling tubes, 50 pack
Dry Bath
Incubator
You will need a 120 volt, dry bath incubator with digital control plus a block to hold 12mm tubes.
A dry bath incubator can be purchased separately from one of the following companies:
NextDayScience, AccuBlock Digital Dry Bath Incubator
Southwest Science, Digital Dry Bath Incubator