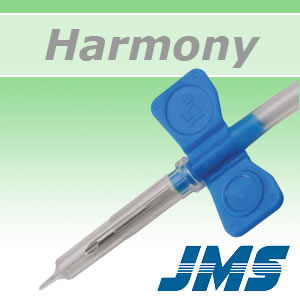 Harmony AV Fistula Safety Needle
The JMS Harmony AV Fistula needle set is used with buttonhole access sites. The integrated cap design provides a method for aseptically preparing the access for cannulation.

Buttonhole Bevel

Cap for aseptically removing the buttonhole scab

Color-coded for easy identification

Harmony Needle User's Guide
Print User's Guide (PDF)

DO NOT REMOVE CAP END FROM PACKAGE UNTIL SITE IS CLEANSED AND SCAB IS READY FOR REMOVAL.
Integrated cap for aseptically
removing the scab.
Clean button-hole site according to policy.
Remove Harmony® needle
from package and inspect for
damage or particles.
REPEAT DISINFECTION
PROCEDURE ACCORDING TO POLICY BEFORE ATTEMPTING
CANNULATION.
Without removing the cap, grasp the wings and cap together with the thumb and the forefinger.
Using the tip of the cap, remove buttonhole scab.
Remove cap.
Align Harmony® needle
cannula with bevel facing up over the button-hole site.
OBSERVE PULSATION OF BLOOD IN THE PLASTIC TUBING WHEN THE
HARMONY® NEEDLE IS IN THE BUTTONHOLE ACCESS.
Cautiously insert Harmony® needle into the established buttonhole track ensuring the same angle and depth of insertion are used with each cannulation.
Securely tape according to clinic policy and start treatment per facility procedures.
Harmony AV Fistula Safety Needle
Harmony - Buttonhole Access Cannulation
Product
Description
Packaging
827-1400-33
Harmony 14G X 1", BE-CL
300 / Case
827-1500-33
Harmony 15G X 1", BE-CL
300 / Case
827-1600-33
Harmony 16G X 1", BE-CL
300 / Case
827-1700-33
Harmony 17G X 1", BE-CL
300 / Case