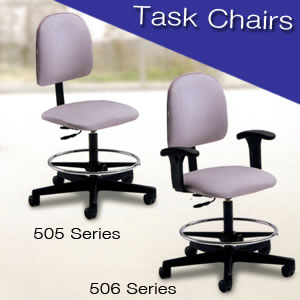 Task Chairs (Rated up to 300 LBS.)
Champion's Task Chairs come standard with a large, adjustable seat on a 25-inch pedestal. The height adjusts easily with a hand lever under the seat and the foot-ring creates a comfortable place for users to rest their feet. Champion's Task Chairs are ideal for nurse's stations, computer terminals, clinic offices, lab rooms or other applications.


Specifications
Options
Standard Colors
Warranty
Specifications

Standard Features
Mounts on a 25" pedestal
Yes
Yes
Protected backrest frame
Yes
Yes
Height-adjustable armrests
No
Yes
Specifications
Weight Capacity
300 lbs
300 lbs
Overall width - wheel base
26.5"
26.5"
Overall height
37"- 46.5"
37"- 46.5"
Seat height - adjustable
21"- 28"
21"- 28"
Arm height from seat
N/A
6.5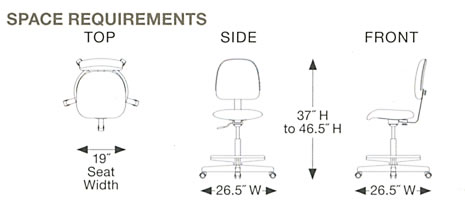 Options
Options
Vinyl upgrades
Champion, non-standard vinyl (NSV)***
Customer's own material (COM)
PVC-free material
Antimicrobial material
**Contact Dial Medical for a list of fire-tested vinyls
***Contact Dial Medical for available non-standard patters and colors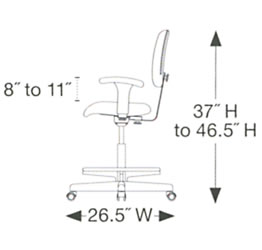 Standard Vinyl Colors
Colors displayed on computer monitors may not be an exact match to actual fabric colors and are enlarges to show detail. Please contact Dial Medical (800-346-2080) for a fabric / color samples to be sent to you.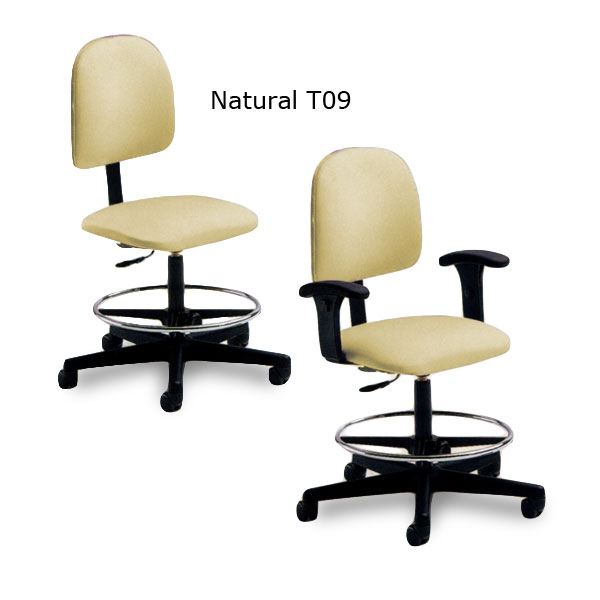 Warranty
LIMITED WARRANTY FOR COMMERCIAL PURCHASERS ONLY
PLEASE NOTE: THE WARRANTY BELOW HAS BEEN DRAFTED TO COMPLY WITH UNITED STATES FEDERAL LAW APPLICABLE TO PRODUCTS MANUFACTURED AFTER JULY 4, 1975.

This Warranty Covers Commercial Purchasers Only

This warranty is extended only to the original commercial purchaser who purchases this product when new and unused directly from Champion Manufacturing, Inc. or an authorized Champion distributor. This product is for commercial use only and Champion and this warranty do not provide warranty coverage to any consumer who purchases this product. This warranty gives you specific legal rights and you may also have other legal rights which vary from state to state.

What this Warranty Covers
Champion warrants all recliner mechanisms (including trendelenburg), Champion approved and supplied upholstery products, foam packs, power and electrical components, and all stools, task chairs and 220 series recliners to be free from defects in materials and workmanship for a period of two (2) years from the date of purchase from Champion or a dealer. Champion warrants all remaining components of its Champion-brand products to be free from defects in materials and workmanship for a period of five (5) years from the date of purchase from Champion or a dealer. A copy of the seller's invoice is required for coverage under this warranty. If within such warranty periods any product component
eligible for coverage under this warranty shall be proven to be defective, Champion will, at its option, either replace or repair the product, or will supply the customer with replacement parts. Champion will pay all Champion-authorized labor and freight charges for returns or replacements covered under this warranty. Champion's sole obligation and your exclusive remedy under this warranty shall be limited to such repair and/or replacement. THIS WARRANTY SHALL BE EXTENDED TO COMPLY WITH STATE/PROVINCIAL LAWS AND REQUIREMENTS.

WHAT THIS WARRANTY DOES NOT COVER – LIMITATIONS AND EXCLUSIONS
This warranty does not apply to Champ-Cycle products – see the warranty provided with those products. THIS PRODUCT IS FOR PURCHASE AND USE BY COMMERCIAL PURCHASERS SUCH AS MEDICAL FACILITIES AND MEDICAL PRODUCTS DISTRIBUTORS ONLY. CHAMPION AND THIS WARRANTY DO NOT PROVIDE WARRANTY COVERAGE TO ANY CONSUMER WHO PURCHASES THIS PRODUCT. THIS WARRANTY SHALL NOT APPLY TO SERIAL NUMBERED PRODUCTS IF THE SERIAL NUMBER HAS BEEN REMOVED OR DEFACED, PRODUCTS SUBJECT TO NEGLIGENCE, ACCIDENT, IMPROPER OPERATION, MAINTENANCE OR STORAGE, COMMERCIAL OR INSTITUTIONAL USE, PRODUCTS MODIFIED WITHOUT CHAMPION'S EXPRESS WRITTEN CONSENT (INCLUDING, BUT NOT LIMITED TO, MODIFICATION THROUGH THE USE OF UNAUTHORIZED PARTS OR ATTACHMENTS); PRODUCTS DAMAGED BY REASON OF REPAIRS MADE TO ANY COMPONENT WITHOUT THE SPECIFIC CONSENT OF CHAMPION, OR TO A PRODUCT DAMAGED BY CIRCUMSTANCES BEYOND CHAMPION'S CONTROL, WITH SUCH WARRANTY ELIGIBILITY EVALUATION MADE
SOLELY BY CHAMPION. THIS WARRANTY SHALL NOT APPLY TO PROBLEMS ARISING FROM NORMAL WEAR AND TEAR OR FAILURE TO ADHERE TO THE PRODUCT INSTRUCTIONS. A CHANGE IN OPERATING NOISE, PARTICULARLY RELATIVE TO MOTORS, DOES NOT CONSTITUTE A FAILURE OR DEFECT AND WILL NOT BE REPAIRED, AS ALL DEVICES WILL EXHIBIT CHANGES IN OPERATING NOISE DUE TO AGING.

THIS LIMITED WARRANTY IS EXCLUSIVE AND IN LIEU OF ANY OTHER WARRANTIES WHATSOEVER, WHETHER EXPRESS OR IMPLIED, INCLUDING THE IMPLIED WARRANTIES OF MERCHANTABILITY AND FITNESS FOR A PARTICULAR PURPOSE, AND THE SOLE REMEDY FOR VIOLATIONS OF ANY WARRANTY WHATSOEVER, SHALL BE LIMITED TO REPAIR OR REPLACEMENT OF THE DEFECTIVE PRODUCT PURSUANT TO THE TERMS
CONTAINED HEREIN. THE APPLICATION OF ANY IMPLIED WARRANTY WHATSOEVER SHALL NOT EXTEND BEYOND THE DURATION OF THE EXPRESS WARRANTY PROVIDED HEREIN AND CHAMPION SHALL NOT BE LIABLE FOR ANY CONSEQUENTIAL OR INCIDENTAL DAMAGES WHATSOEVER; SOME STATES DO NOT ALLOW THE EXCLUSION OR LIMITATION OF INCIDENTAL OR CONSEQUENTIAL DAMAGE, OR LIMITATION OF HOW LONG AN IMPLIED WARRANTY LASTS, SO THE ABOVE EXCLUSION AND LIMITATION MAY NOT BE APPLICABLE.