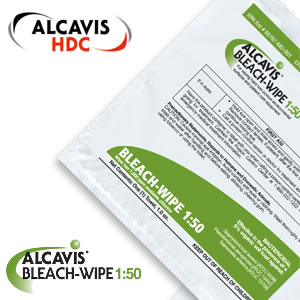 Alcavis Bleach Wipe 1:50
1:50 Diluted Bleach Solution
Ingredients: Sodium Hypochlorite: 0.10%
Inert Ingredients: 99.475%
Alcavis Bleach Wipe 1:50 dilution is a prediluted bleach towel that is an EPA-registered (#65787-3) bactericidal wipe.
Alcavis Bleach Wipe 1:50 dilution meets the CDC Recommendations and OSHA Standard
precautions for bloodborne pathogen decontamination at 1,000 ppm NaOCl.
Alcavis Bleach Wipe 1:50 dilution disinfects hard, nonporous surfaces and medical equipment
in one easy step. This dilution is ready to use, in the presence of organic matter, on hard surfaces.
Alcavis Bleach Wipe 1:50 dilution has a stable shelf life of 18 months.
Alcavis Bleach Wipe 1:50 is Effective Against*:
MRSA, VRE, S. pneumonia, S. pyrogens, P. aeurginosa, S. enterica, S aureus
*(Not all organisms tested for California EPA)


Surface Disinfection

Markets
Guidelines
MSDS
Products
DISINFECTION OF SURFACES
SUPPLIES
• Alcavis 1:50 Bleach-Wipe
PROCEDURE
Open wipe packet(s).

Remove premoistened towelette(s).

Apply towelette and wipe desired surface to be disinfected.

Treated surface must remain visibly wet for 10 minutes.

Use additional wipe(s) if needed to assure continuous 10 minute wet contact time.

Allow surface area to dry and discard used towelette.
APPROPRIATE FOR THE FOLLOWING MARKETS
Healthcare • Dental • Government • Research
For use on hard, non porous surfaces including stainless steel, chrome, metal, glass, vinyl, plastic, laminate, linoleum, glazed ceramic tile, glazed porcelain, and sealed or painted wood.

Areas for use include: Medical, Dental and Laboratory Counters, Exam Tables, Carts, Dialysis Machines, Point of Care Equipment, Telephones, Sink Tops, Counter Tops, Floors, Bathrooms, Tubs, Handrails, Door Knobs, Lockers and Desks.
GUIDELINES AND RECOMMENDATIONS FOR USING THE ALCAVIS 1:50 DILUTED BLEACH SOLUTION
• Rutala, W.M.: APIC Guideline and Selection for Use of Disinfectants. Am J Infection Control 1996; 24: 313-342 and Simmons, B. P.: Guideline for Hospital Environmental Control. Am Infect Control 1983; 11:97-115. High-Level Disinfection (semi-critical items [except dental] will come in contact with mucous membrane or nonintact skin) Procedure exposure time > 20 min. Intermediate-Level Disinfection (some semi-critical and non-critical items) Procedure exposure time > 10 min.
• Recommendations for the Prevention and Control of Viral Gastroenteritis (Norovirus) Outbreaks in California Long-Term care Facilities: California Dept. of Health Services – Division of Communicable Disease Control 4. "Use an EPA-approved disinfectant or a freshly prepared sodium-hypochlorite solution on a 1:100 (500ppm) to 1:10 (5000ppm) dilution to disinfect surfaces with feces or vomitus."
Alcavis Bleach Wipes 1:50 MSDS (Material Safety Data Sheets)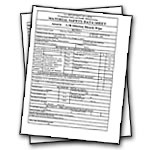 Alcavis Bleach Wipes 1:50 Material Safety Data Sheets (MSDS) include information concerning; Generic product identification, Hazardous ingredients, Physical data, Fire and explosion hazard data, Health hazard data, Reactivity data, Spill or leak procedures, special protection information and special precautions.
Alcavis Bleach Wipe 1:50
Alcavis Bleach Wipe 1:50

- 1:50 Diluted Bleach Solution
Product
Description
Packaging
09061
1 Wipe Per Pack (8" X 10")
800 / Case
09062
2 Wipes Per Pack (8" X 10")
400 Packs / Case (800 Wipes)